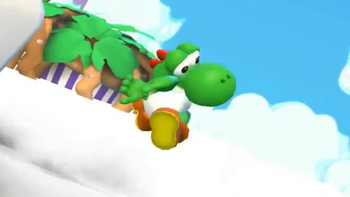 Yoshi
(full name:
T. Yoshisaur Munchakoopas
) is a dinosaur who has first appeared in
Super Mario World
. He also appears in a few of
HassanLechkar
's bloopers.
Appearances
Edit
He first appeared in Randomness with another Yoshi, who ate him.
His next appearance was in Ssenmodnar (it is unknown how he survived after the events of Randomness), where sumpersmashers interviewed him and noticed his glitched foot. Yoshi then said he had to go.
His third (and latest) appearance in HassanLechkar's bloopers was in Ssenmodnar 2, where he arrived at Chilly Waters with Daisy, Waluigi and Donkey Kong (who got put in 4th place and ragequit).
Ad blocker interference detected!
Wikia is a free-to-use site that makes money from advertising. We have a modified experience for viewers using ad blockers

Wikia is not accessible if you've made further modifications. Remove the custom ad blocker rule(s) and the page will load as expected.