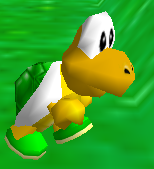 Koopa Troopas
, or
Koopas
for short, are a species of turtle. Koopas are often members of
Bowser
's army.
Appearances
Edit
A Koopa Troopa has first appeared in Blooper TV, calling a Gourmet Guy a "gutless fatso". Gourmet Guy's response was pushing him into a wall, thus temporarily cutting off the transmission of a television channel.
The Koopas in Super Mario 64 do not act aggressively towards Mario; in fact, they attempt to escape whenever they see him coming. These Koopas are harmless and cannot harm Mario, but they can push him back if touched.
Ad blocker interference detected!
Wikia is a free-to-use site that makes money from advertising. We have a modified experience for viewers using ad blockers

Wikia is not accessible if you've made further modifications. Remove the custom ad blocker rule(s) and the page will load as expected.